Welcome to My Website!
I hope you'll spend a moment or two exploring the site to learn more about the editing services I offer, my portfolio, my books, and my blog. Please feel free to contact me for additional information and to request services.
I'm pleased to announce that The Clay Sustains, Book 3 in the Clay Series, has been awarded an indieBRAG medallion for excellence, joining its series mates in the honor.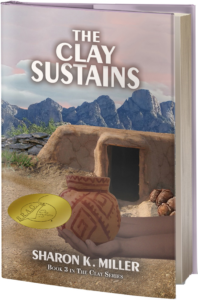 Look for announcements of forthcoming book talks and walking tours of the Romero Ruin in Catalina State Park, the setting for the three books in The Clay Series
Open to the public. Enjoy light picnic fare and an up-close and personal tour along the interpretive trail that winds through the archaeological site.
Download a map and directions here
Reading Group Offer
Reading groups and book clubs who are interested in reading The Clay Remembers, The Clay Endures, or The Clay Sustains can order paperback copies directly from me at a special discount: $10 each with free shipping to a single address. I am available for online discussions and in person locally. Contact me for more information.